I love animals! We have 2 cats and 3 dogs and someday I would love to have a farm. Here are some great "animal friendly" recipes using all ingredients that don't harm animals! I promise you these recipes are amazing and you can not tell the difference between the animal friendly recipe and the "other kind"!
ENJOY! This photo was taken at the Catskill Animal Sanctuary in Woodstock NY, a must visit for any animal lover!
http://casanctuary.org
_________________________________________________________________________________
From the PETA website. These are great with Blueberries!
Vegan Pancakes
1 Tbsp.
sugar
2 Tbsp.
baking powder
1/8 tsp.
salt
1 cup
soy milk
2 Tbsp.
vegetable oil
Combine the flour, sugar, baking powder, and salt in a bowl and mix thoroughly. Mix in the soy milk and oil and, with an electric mixer or wire whisk, beat just until the batter is smooth.
Measure 1/2 cup batter onto a hot, oiled griddle. When bubbles appear on the upper surface of the pancake (in about 2 minutes), lift with a spatula and flip the pancake. Cook the pancake for another 2 minutes. Remove from the pan and keep it warm while you make the remaining pancakes.
Serve warm with maple syrup and, if desired, top with your favorite fruit.
Preheat the oven to 325°F and prepare the egg replacer according to the package directions.
Place the ginger cookies and pecans in food a processor and pulse until fine. Transfer to a 9-inch pie pan, preferably a springform pan.
Melt the vegan butter in a saucepan on low heat. Add to the cookie mix and press into the pan until evenly moist and flat.
Bake for 10 minutes, then remove from the oven and allow to cool.
Using an electric mixer, beat the vegan cream cheese and brown sugar until soft. Stir in the vegan sour cream and pumpkin at a low speed.
Beat one-third of the egg replacer into the mixture, followed by another third of the egg replacer. Add the sugar, cinnamon, cloves, and ginger and mix until well combined. Add the remaining egg replacer and mix well. Pour on top of the crust.
Bake for 45 minutes, then turn the oven off and leave the pie inside until the oven reaches room temperature. Refrigerate for at least 2 hours before decorating as desired, and enjoy!
________________________________________________________________________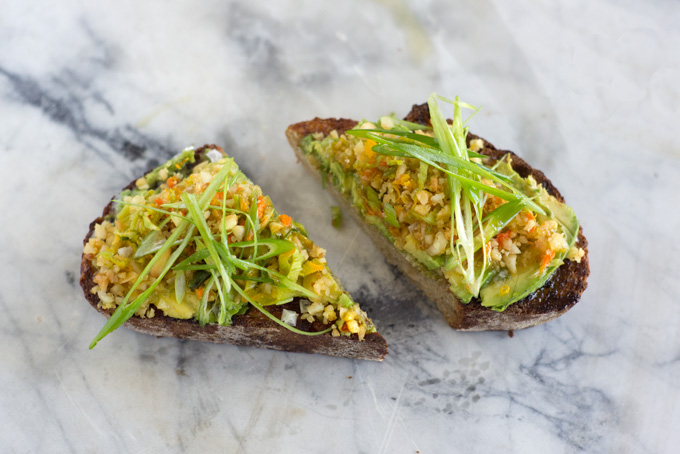 Avocado Coconut Oil Tartine Recipe
One of the reasons I prefer open-faced tartine sandwiches to other styles, is the bread ratio. While I love good bread, and wholeheartedly embrace the idea of it alongside all manner of slices and slathers, two thick slabs isn't typically what I crave. Tina and I were in the kitchen on Friday prepping a few salads for
this little guy's
fifth(!) birthday party, and early in the afternoon we threw together some tartines for our own lunch. I know a lot of you appreciate the magic that is smashed avocado and black pepper over a nice piece of toasted levain - but this tartine, in particular, takes that general concept to a different level entirely. The idea is this: a slather of pure coconut oil topped with smashed avocado, and finished with garlicky toasted macadamia nuts, squash blossoms, and slivered scallions. You can swap in another nut if it's more convenient, and swap in basil for the blossoms if they're hard for you to find- but it's
key
to seek out highly fragrant, pure, unprocessed coconut oil. Enjoy (and thanks for the inspiration T!), xo-h

Coconut Oil Tartine
If you're in a pinch to find squash blossoms, slivered basil is a perfectly fine substitution.
3/4 cup toasted and chopped macadamia nuts
1 small clove garlic, finely grated
zest of one medium orange
4 squash blossoms, cut into chiffonade
scant 1/2 teaspoon fine grain sea salt, or to taste
4 slices good levain bread, sliced 3/4-inch thick
4 tablespoons pure virgin coconut oil
2 ripe avocados, halved, pits removed
4 scallions, slivered
extra-virgin olive oil, to drizzle
Combine the macadamia nuts, garlic, orange zest, squash blossoms and salt in a small bowl and mix thoroughly. Toast the bread (alternately, a broiler, or grill will work) until it's golden. Just before serving, while the bread is still warm, place 1 tablespoon of the coconut oil on each tartine and spread evenly, saturating the toast. Spoon and smash half an avocado onto each piece of toast, then evenly distribute the nut mixture equally as well. Finish with a sprinkling of scallions, a drizzle of olive oil, and season to your liking. Serve each whole, or sliced into bite-friendly thirds.
Serves 4.
Prep time:
5 min
- Cook time:
5 min